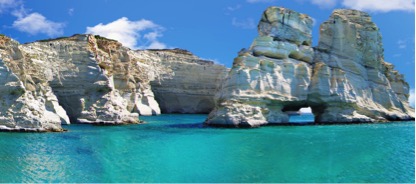 Milos, one of the most beautiful islands in Greece, adorns the Aegean with the beautiful colors and world-renown beaches. Blue waters and more than 70 beaches to choose the visitor from ... The colors with turquoise waters and emerald shades, highlight the unparalleled beauty of the island.
Some of the beaches in which the diverse beauty of Milos is summarized are:
Sarakiniko: Sarakiniko creates a unique, lunar landscape. The white-washed rocks frame the blue waters that surround it. A beach promising to enchant travelers…
Tsigrado: Greenish turquoise crystal-clear waters in Tsigrado, adorn the small sandy cove. Rocks, caves compose a sensational scenery.
Fyriplaka: By the side of Tsigrado, Fyriplaka is a terrific grand beach
Papafrangas: Steep rocks synthesize a heavenly passage
Paleochori: A dreamy beach full of colors and rocks in ruby hues and azure waters
Kleftiko: Although isn't exactly a beach, dive into the turquoise Aegean waters framed by the volcanic white rocks, is an experience that every traveler in Milos should live.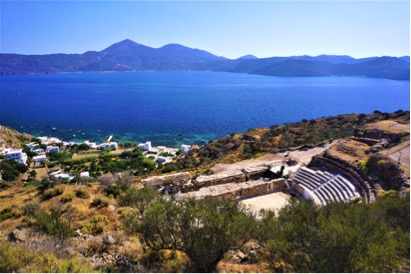 The historical wealth of Milos initiates from 7.000 BC and the prehistorical city of Fylakopi Visiting the archeological sites in Milos the traveler may have the complete image of Milos' beauty. Visit the Ancient Romanian Theatre, the Ancient City in Klima and the Prehistorical City of Fylalopi.
The plurality of historical material on the island is deployed through 5 museums you may find on the island:
The Archeological Museum, in which you may find the exact copy of Aphrodite of Milos
The Ecclesiastical Museum in which elements from the Frankish era are combined.
The Folklore Museum.
The Mining Museum, in which the traveler may enjoy the mining and mineral wealth of the island.
The Marine Museum.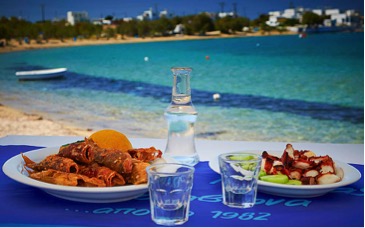 The Cuisine of Milos incorporates the influences that the island received from the historical circumstances and its sui generis volcanic soil as well. The gastronomical tradition of Milos embraced all those influences (Cretan, Venetian and others) and is now well-known for its gastronomy with the special flavors of its local products. The gastronomy of Milos is noted for the stock-farming and the dairy as well. The main cheeses in Milos cuisine are manouri, chlori, dry cheese of Milos, mizithra and many more. Traditional pitaria as well as flaunes will fascinate the gastronomy lovers! Among the most typical dishes of Milos, the famed paste of Milos (tomato paste), which accompanies the majority of Milian dishes. A well-known Milian recipe that's worth to enjoy while visiting the full-of-flavors island, is skordolazana. Cool yourself by tasting the traditional watermelon pie and be sweetened by the traditional "Koufeto of Milos".